Mike and I are reflecting on the past 5 months and what's been accomplished.  We are excited to welcome old friends and new to VinAmi.  BUT……we could not have done this without the assistance of several local people and businesses.  There are so many to mention but a few we wish to publicly thank and encourage others to support:
Angie Pappas/Pretty & Paint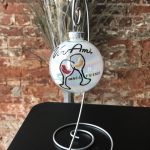 Jodie Swingle/Swingle Countertops
BJ Tom/Advanced Electric
Kenny Daw/OM Plumbing
Justin Stubbs/American Light Company
Robin Stoneking/Xpressive Graphics
Todd McDonald/SYSCO
Matt Minosky/Graphic & Web Design
Jeff Swingle/Performance Tinting
These folks were instrumental in helping us create what you will experience as VinAmi.
In preparation over the past year, the time spent and what we've learned from The Wine Bistro and Annies Wine Cottage is invaluable.  Akishia Moore and John/Anne Gabriel opened their doors to provide feedback and advice to us on every topic and detail.  Please support their businesses when you're in the Lane Ave and Powell areas.
Our friends at Grass Roots have been so patient and understanding with deliveries, noise, smells and disruptions!  We are thrilled to have them as friends and neighbors.  Stay tuned on social media for joint ventures with Rachel and her team!
So many friends and family have been involved in pulling this together with us.  We could not have done this alone.  We've toasted to the past and the work that's been done.  We toast to the present and feelings of pride and anticipation.  We're toasting to the future and enjoying the moments with our friends, old and new, family and community.  VinAmi Everyone…..wine & friends….as it should be. #VinAmi740
See you soon~Alana